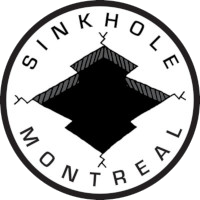 TRIP BAGS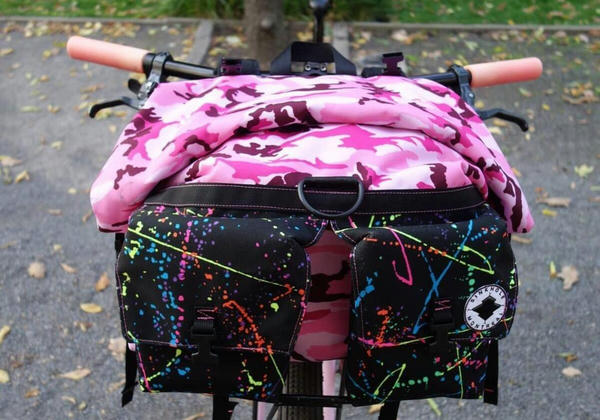 I mostly stay away from making really specific bike-packing gear like panniers, or randonneur bags, or saddlebags. There is a lot of specific design and construction that goes into them. They inevitably become very expensive, and only good for a very specific use on a very specific bike.
Instead, I make this TRIP BAG. It's a big general-purpose front rack bag. It will fit in a Wald 139 basket. It has numerous attachment points on the bottom and back. It will attach to most front-racks, or handlebars (probably with some added support). You might even be able to run it as a saddlebag with a bag support. You can probably attach a stiff dowel or rod to it if you need the support. Use Voile straps, or webbing, or zip ties. There is a velcro pocket on the bottom to add a stiff bottom.
And it has a detachable shoulder strap and is pretty decent as a sling bag. If you are travelling with your bike, you can use this bag as your carry-on or as your day-day bag without having to attach/remove it from your bike constantly.
Basically this bag is for you if you have a DIY spirit. It won't work for everyone, but it will work for most people who want to hack some day to attach it to their bike.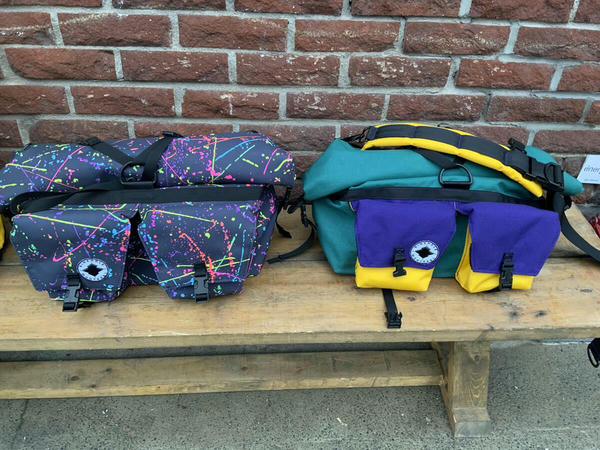 Features
1000D Coruda or X-Pac outer
Nylon or X-Pac floating liner
Two 3D front pockets
Roll top closure with side buckles to compress down the bag
Extra cargo strap to close an overloaded bag and/or attach addtional cargo
Velcro stiffenr pocket on the bottom
Three rows of webbing loops along the bottom and back
Reinforced webbing loop along back for handlebar or other attachment points
Removeable shoulder strap
Details