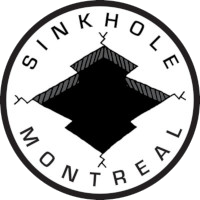 ABOUT
About
I have been sewing things out of Cordura and truck tarp since 2008. In 2016 I got my first industrial sewing machine and, based on the support and encouragement of many friends, started making stuff more seriously as Sinkhole in 2017. I only do this part time. When I'm not sewing, I ride and dispatch with the best bike messengers in Montreal, Chasseurs Courrier.
FAQ
How long will a custom order take?
My turnaround varies depending on how busy I am, but generally for a bag it takes 4-6 weeks and a smaller item (hip pouch, fannypack, etc) it takes 2-3 weeks. Custom orders are made from scratch custom for you and they take time! I am just one person and Sinkhole is a part time venture. If you want a more detailed estimate, or if you want to know if I can have something done for a specific date (for a gift or an upcoming trip), just ask and I will probably try to accommodate you.
What is your warranty / guarantee / return / repair policy?
I try to make all of my bags as durable as possible – but nothing lasts forever. Guaranteeing you a free replacement bag for life is not realistic for me given the modest size of my operation. Velcro wear out, zippers break, Cordura is eventually degraded by the unrelenting UV bombardment of the sun, etc. That being said, I do everything possible to make sure my bags will have a long, long life and any defect that is due to my own carelessness or poor workmanship I will endeavor to make right with a repair or replacement.
I'm also happy to repair normal wear and tear on bags I've made, whether it be broken buckles or worn out material from steady use. Depending on the situation I'll probably be happy to do this for free provided you can get the bag to me.
Do you repair other bags?
YES! I love repairing other older messenger bags and keeping them on your back and on the road. Most older bags can get a whole new life with a few replaced buckles and straps or some repaired stitches. Get in touch if you have an old bag that needs some work and I'll take a look.